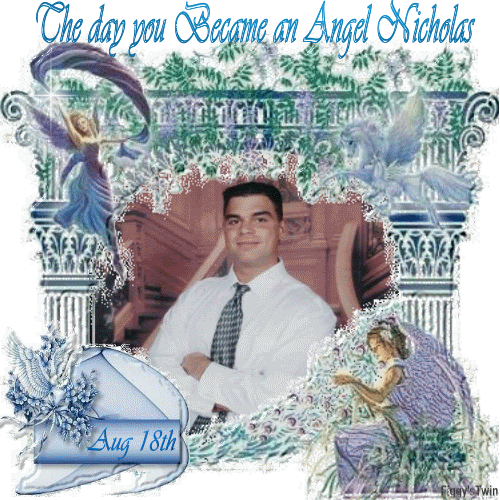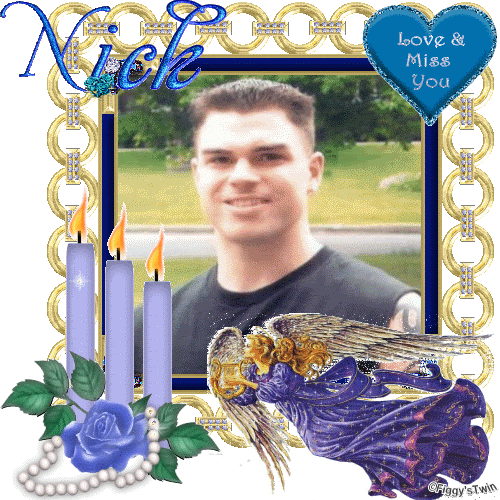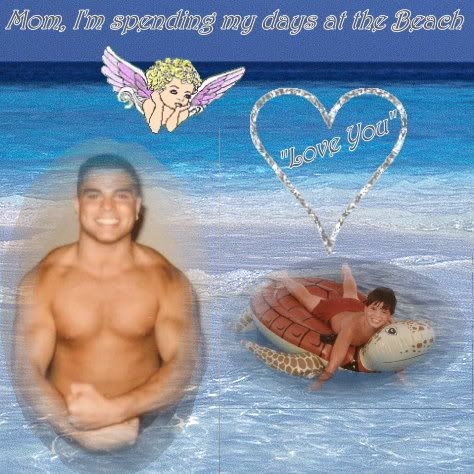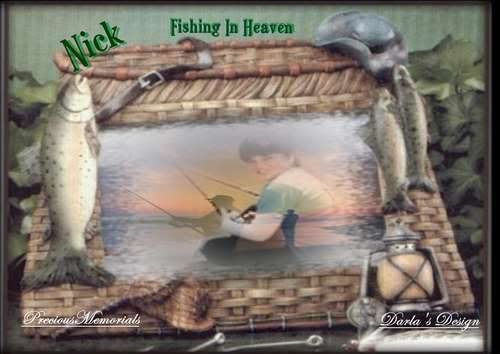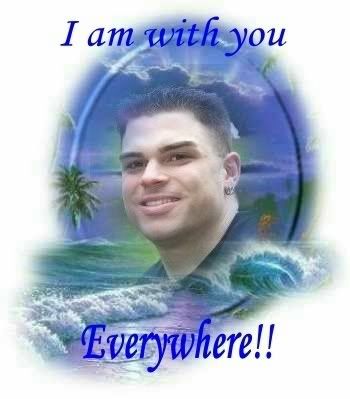 http://youtu.be/ccCnL8hArW8
(Eva Cassidy - Somewhere Over the Rainbow)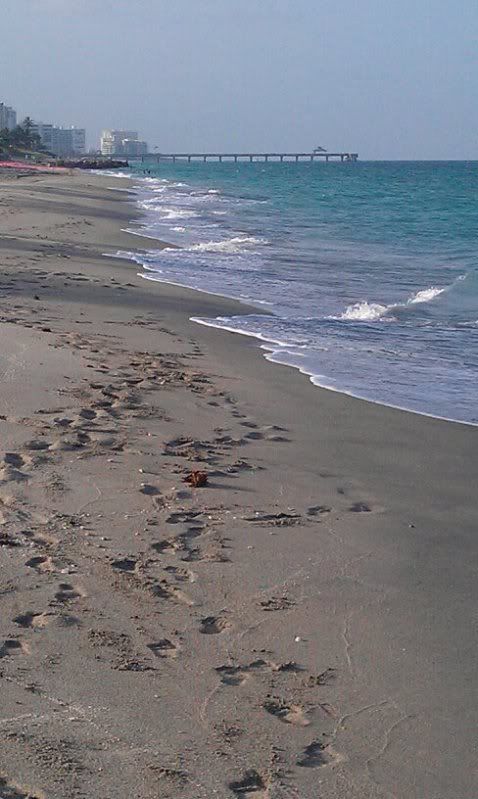 Footprints in the sand at Our "Hillsboro Beach, FL".
http://www.youtube.com/watch?v=_8vm8ORMZt4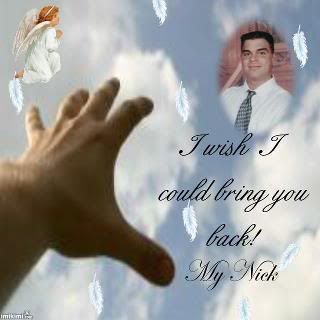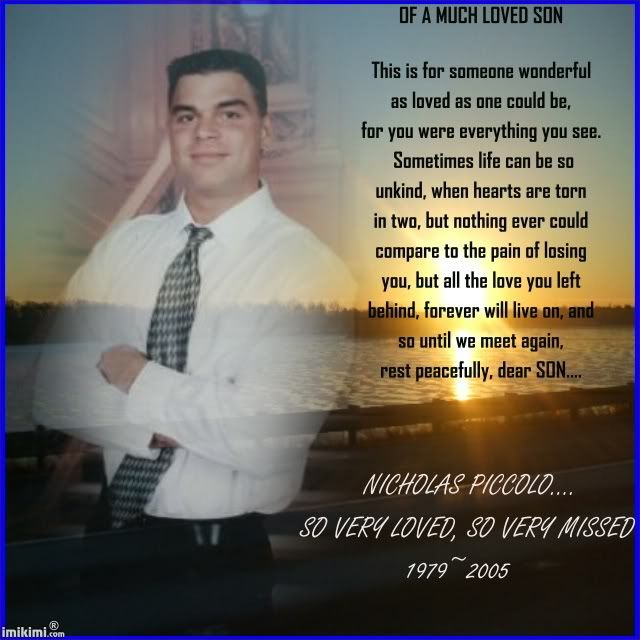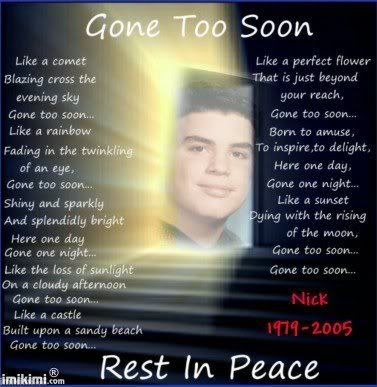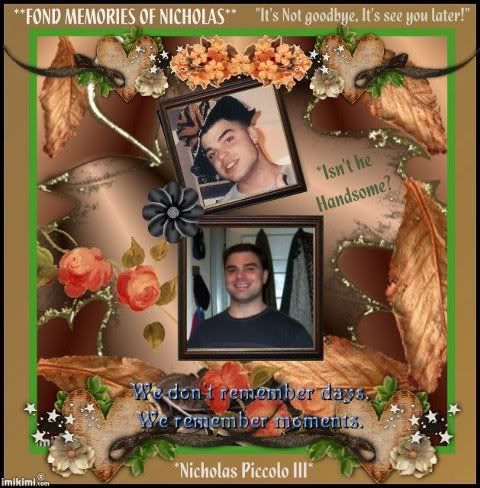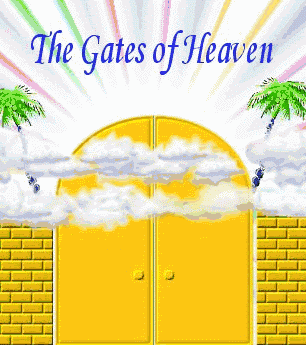 We Miss You Nicholas
7th Anniversary in Heaven

We miss you dear Nicholas, more than words can say
Our hearts were all broken when you had to leave that day.
It wasn`t suppose to be that way, why did you have to go?
Why the Lord called you home, perhaps someday we`ll know.

Now you are in Heaven no worries and no pain
And we know that someday we`ll be together again.
Free to soar among the clouds, float upon the wind
Your soul has been set free, your eternal life begins.

Be happy in Heaven son, for it was meant to be
The Lord brought you home to start eternity.
And we will always keep your memory alive
In our hearts remembrances of you always will survive.

And when the day comes for us to leave this earthly plain
We`ll be together as a family, whole once again.
So our dear Nicholas, we all hope you know
That we all miss you and we love you so.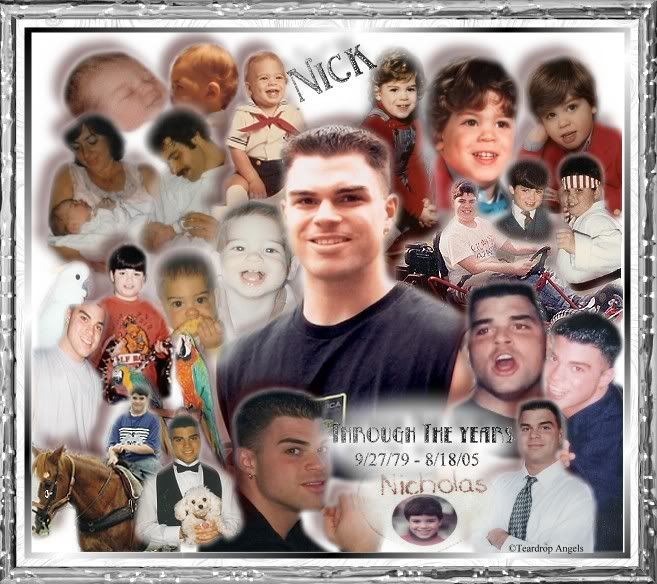 When Tomorrow Starts Without Me ....
~*~ ~*~ ~*~ ~*~ ~*~ ~*~ ~*~ ~*~ ~*~
When tomorrow starts without me,
And I'm not there to see,
If the sun should rise and find your eyes
All filled with tears for me;

I wish so much you wouldn't cry
The way you did today,
While thinking of the many things,
We didn't get to say.

I know how much you love me,
As much as I love you,
And each time that you think of me,
I know you'll miss me too;

But when tomorrow starts without me,
Please try to understand,
That an angel came and called my name,
And took me by the hand,

And said my place was ready,
In heaven far above,
And that I'd have to leave behind
All those I dearly love.

But as I turned to walk away,
A tear fell from my eye
For all my life, I'd always thought,
I didn't want to die.

I had so much to live for,
So much left yet to do,
It almost seemed impossible
That I was leaving you.

I thought of all the yesterdays,
The good ones and the bad,
I thought of all the love we shared,
And all the fun we had.

If I could relive yesterday,
Just even for a while,
I'd say good-bye and kiss you
And maybe see you smile.

But then I fully realized,
That this could never be,
For emptiness and memories,
Would take the place of me.

And when I thought of worldly things,
I might miss come tomorrow,
I thought of you, and when I did,
My heart was filled with sorrow.

But when I walked through heaven's gates,
I felt so much at home.
When God looked down and smiled at me,
From His great golden throne,

He said, "This is eternity,
And all I've promised you.
Today your life on earth is past,
But here life starts anew.

I promise no tomorrow,
But today will always last,
And since each day's the same way
There's no longing for the past.

You have been so faithful,
So trusting and so true.
Though there were times you did some things
You knew you shouldn't do.

But you have been forgiven
And now at last you're free.
So won't you come and take my hand
And share my life with me?"

So when tomorrow starts without me,
Don't think we're far apart,
For every time you think of me,
I'm right here, in your heart.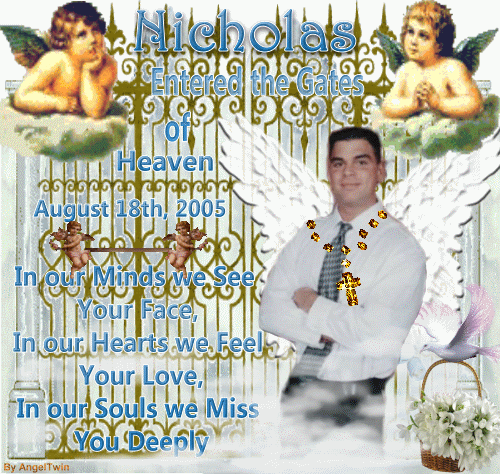 Nicholas in spirit at his brother Mike's wedding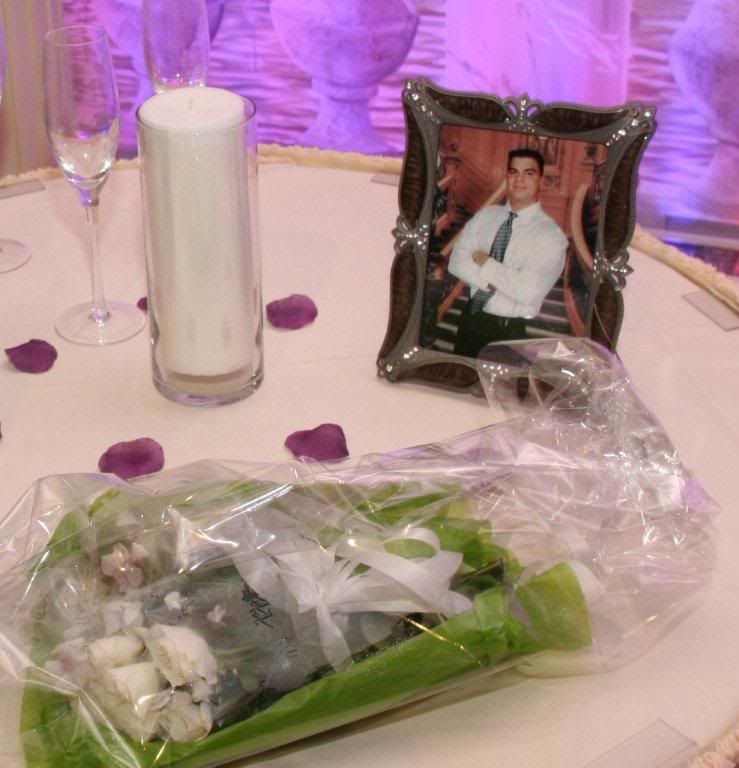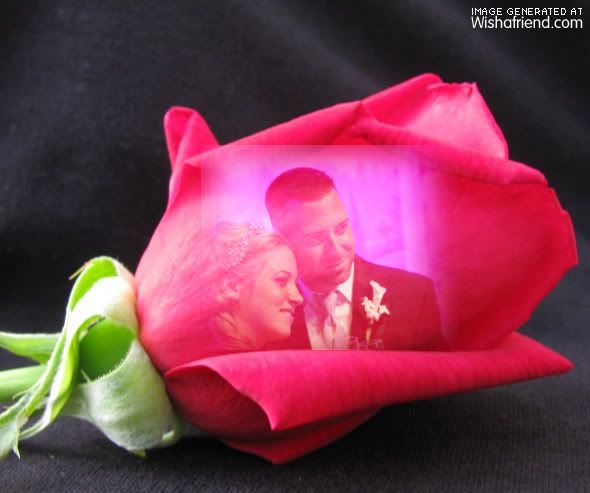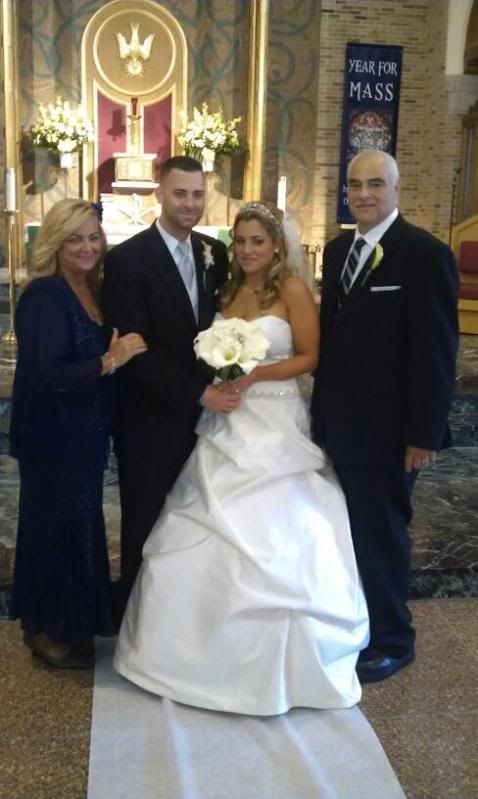 Big ORB between Cristina & Mike in above left church picture.
MIKE & CRISTINA'S WEDDING 10-9-11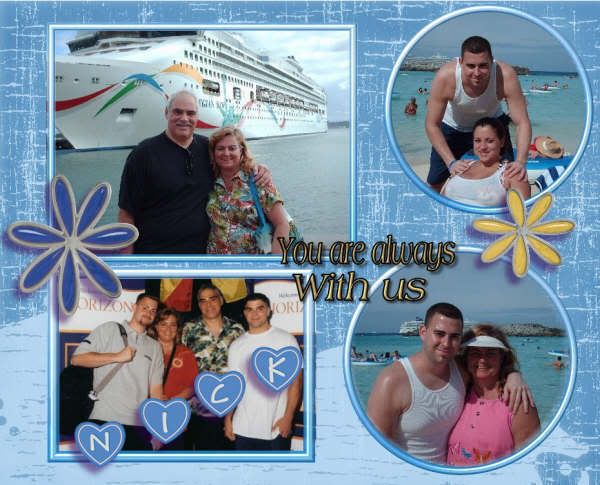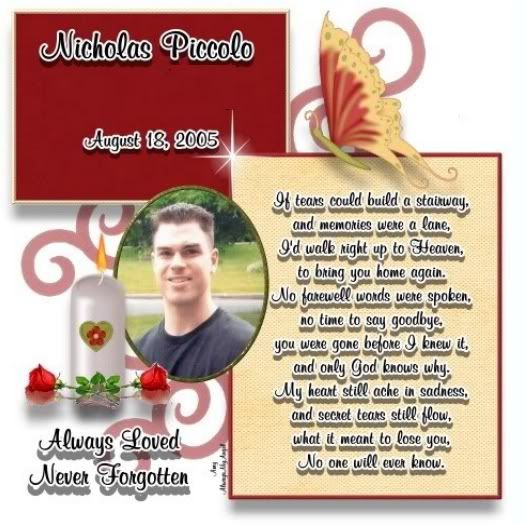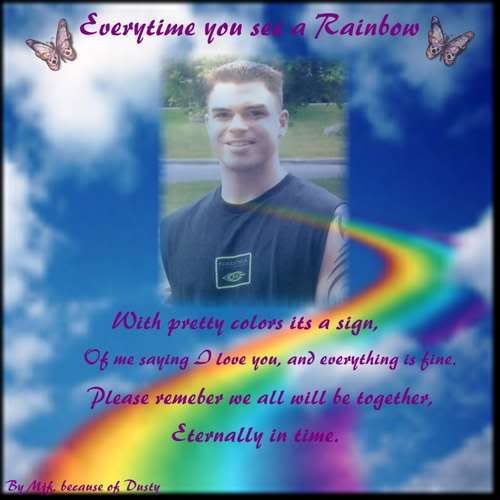 Please visit Nick's cousin at: http://anthony-braccia-iii.memory-of.com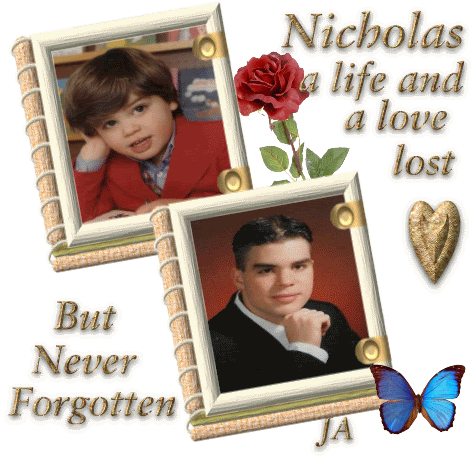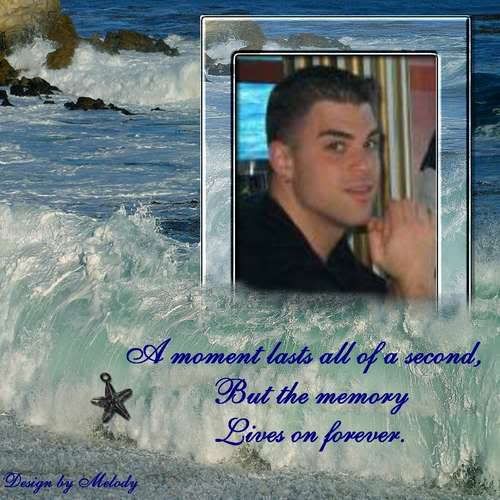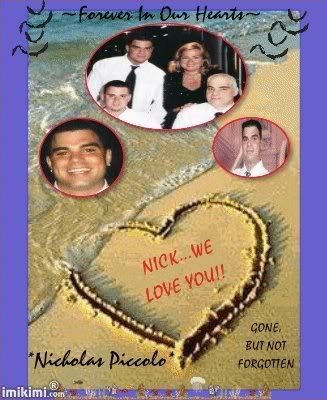 (Thank you Cathy Giraud)
Grief
Grief,
like the ocean,
comes in waves
only to recede
and come yet again.

But with it comes healing.

Memories wash ashore
and are bathed
by the golden sun.

Grab hold of those memories
and let them
fill the emptiness.

"It has been said that time heals all wounds.
I do not agree.
The wounds remain.
In time the mind,
protecting its sanity,
covers them with scar
tissue and the pain lessons----
but it is never gone."

- Rose Kennedy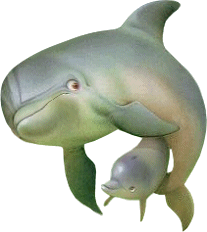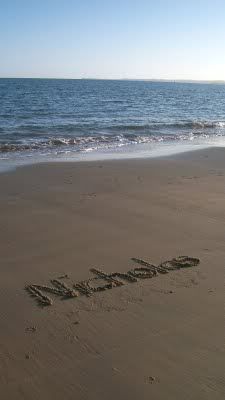 Nicholas Piccolo III
1979 - 2005
"Remembrance"
You can shed tears that he is gone,
Or you can smile because he has lived.
You can close your eyes,
And pray that he'll come back,
Or you can open your eyes,
And see all he has left.
Your Heart can be empty,
Because you can't see him,
Or you can be full of,
The love you shared.
You can turn your back on tomorrow,
And live yesterday, or you,
Can be happy for tomorrow,
Because of yesterday.
You can remember him,
And only that he's gone,
Or you can cherish,
His memory and let it live on.
You can cry and close your mind,
Be empty and turn your back,
Or you can do what he'd want....
Smile, Open Your Eyes,
Love And Go On....
Loving And Remembering You
Always And forever
From Your Loving
Mother, Father And Brother
xoxoxoxo
(thank you Kay)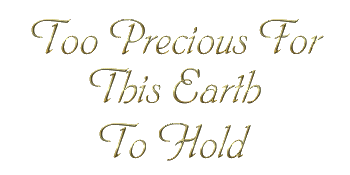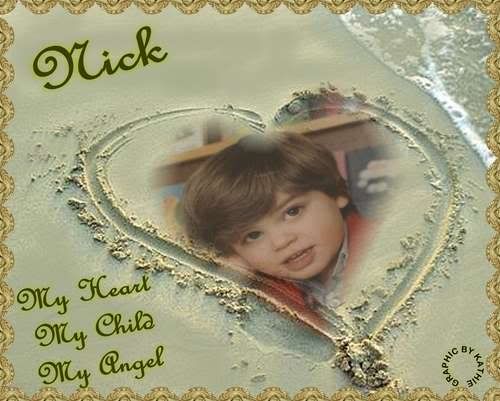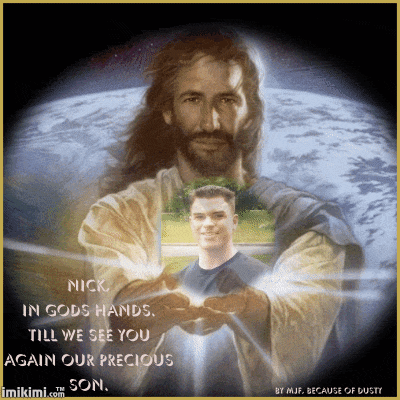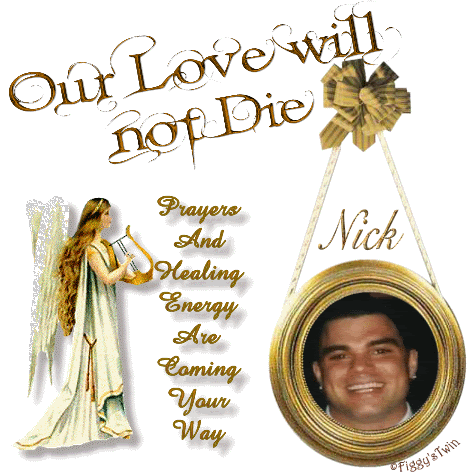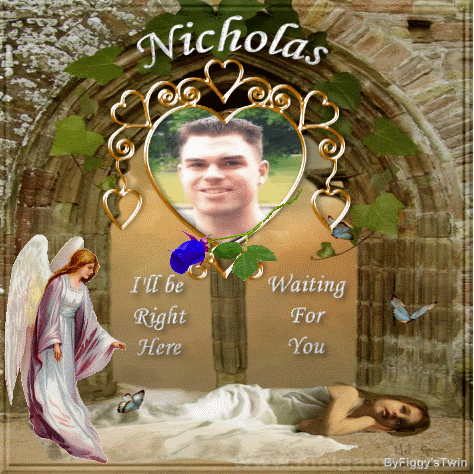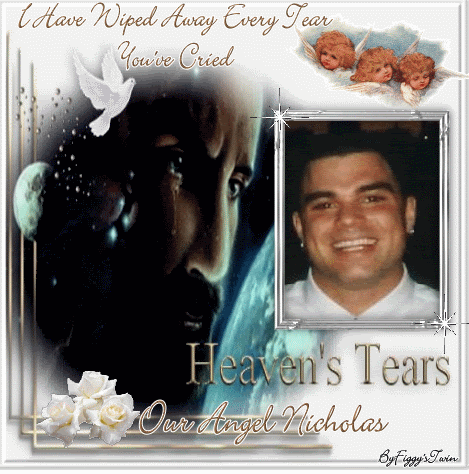 A Sadly Missed Son

I've come for a little chat,son
I know that you can hear,
whenever things are difficult
I always come back here.

I tidy around and talk to you
And think about the past,
All those precious moments
Destined not to last.

I feel your eyes upon me
As I turn to walk away,
And that little chat I've had with you
Gets me through another day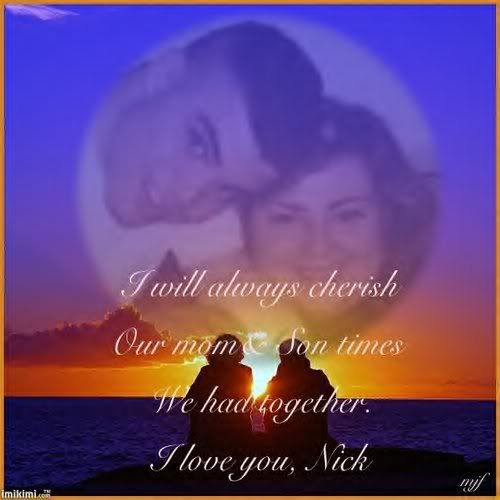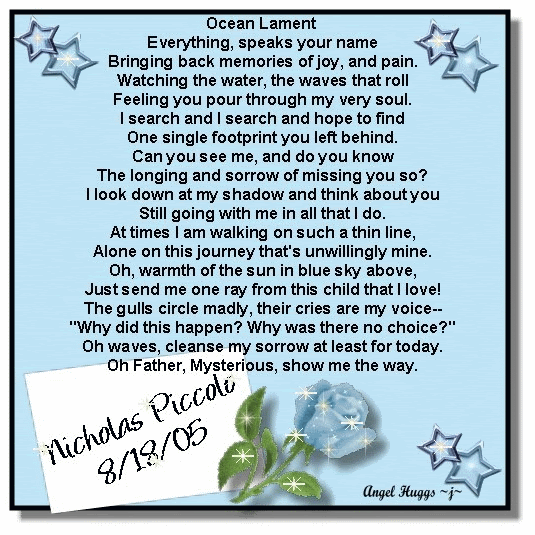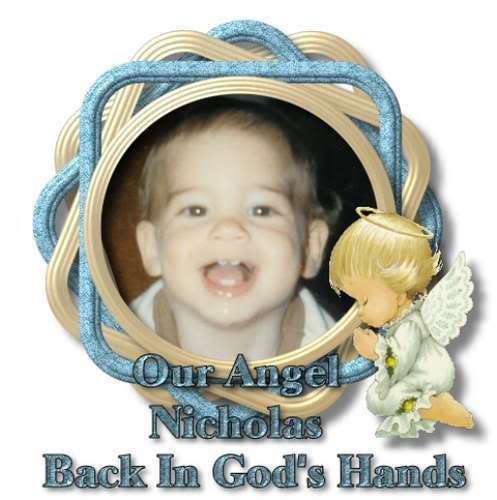 A Special Angel

There's a special angel in Heaven
That is a part of me.
It is not where I wanted him,
But where God wanted him to be.
He was here just a moment,
Like a night time shooting star.
And though he is in Heaven
He isn't very far.
He touched the hearts of many,
Like only an angel can do.
I would've held him every minute,
If the end I only knew.
So I send this special message
To Heaven up above.
Please take care of my angel,
And send him all my love.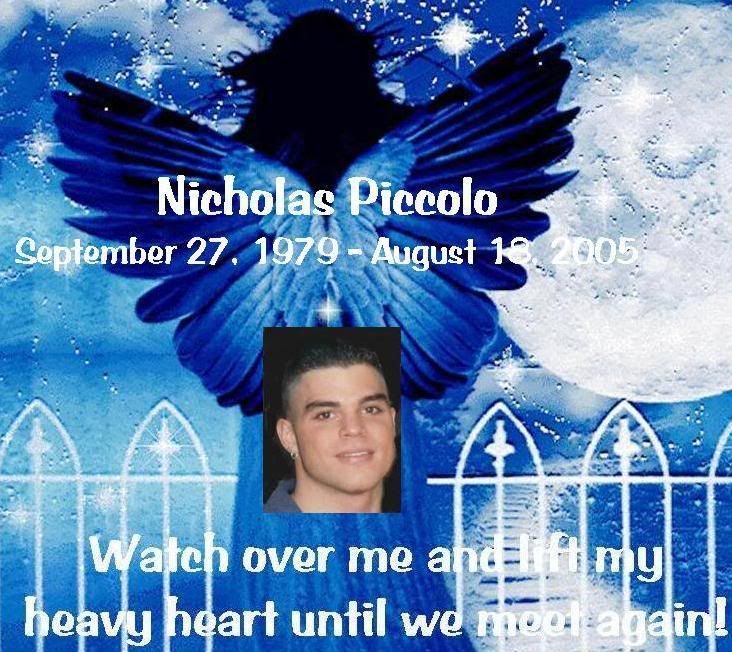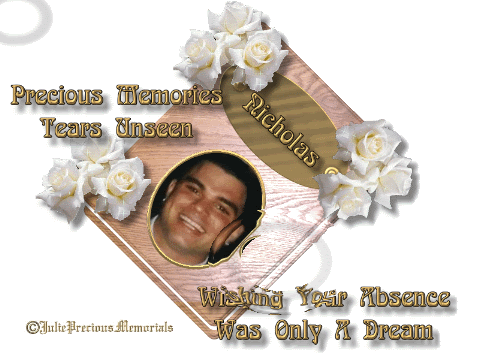 Memories
He danced through our lives,
Leaving traces of his smile
and his sparkling eyes
everywhere...
His laughter
echoes through our thoughts and dreams
everywhere...
Some times we reach out to hug
And to touch a memory.
Our love for Him is neverending,
But has been placed in a
special part of our hearts.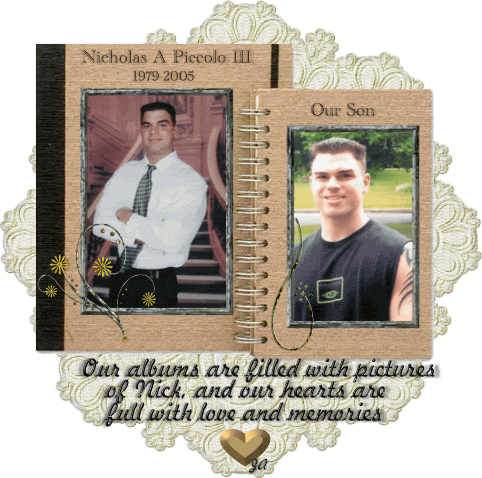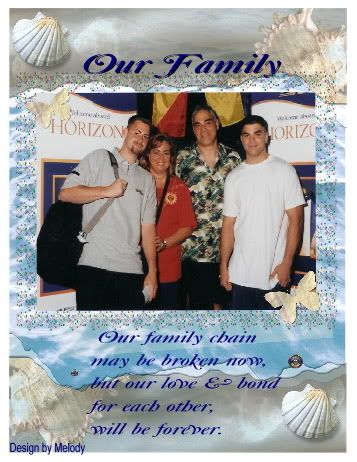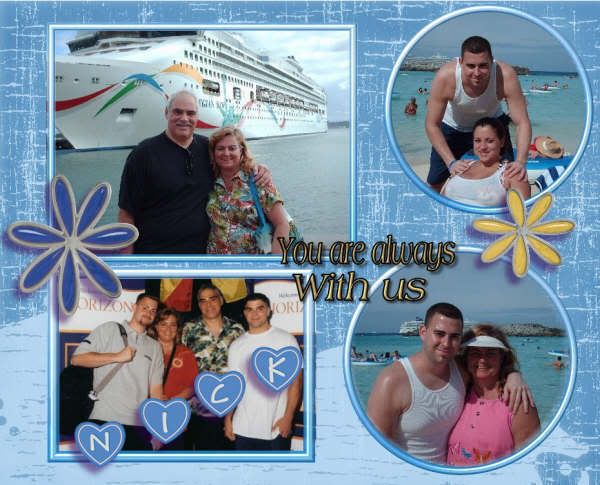 http://www.youtube.com/watch?v=Jx3rjS_vSM4
For Good- From the musical Wicked

I've heard it said
That people come into our lives for a reason
Bringing something we must learn
And we are led
To those who help us most to grow
If we let them
And we help them in return
Well, I don't know if I believe that's true
But I know I'm who I am today
Because I knew you

Like a comet pulled from orbit
As it passes a sun
Like a stream that meets a boulder
Halfway through the wood
Who can say if I've been changed for the better?
But because I knew you
I have been changed for good

It well may be
That we will never meet again
In this lifetime
So let me say before we part
So much of me
Is made of what I learned from you
You'll be with me
Like a handprint on my heart
And now whatever way our stories end
I know you have re-written mine
By being my friend
Like a ship blown from its mooring
By a wind off the sea
Like a seed dropped by a sky bird
In a distant wood
Who can say if I've been changed for the better?
But because I knew you
I have been changed for good.
Nick's Salt Water Fish Tank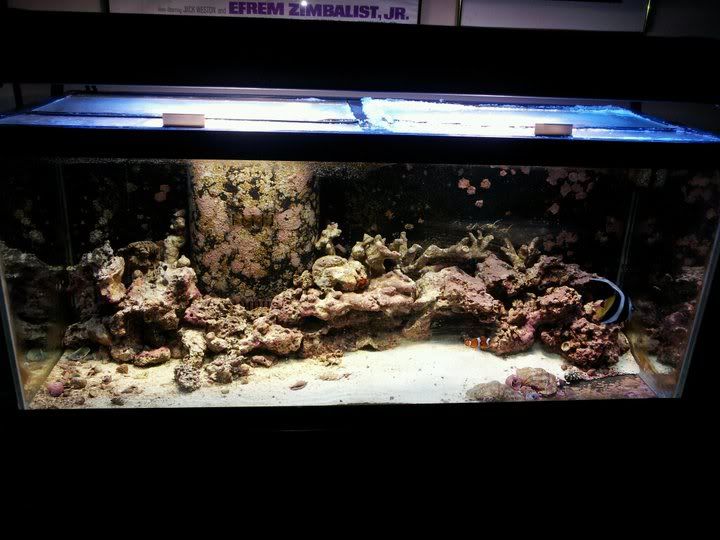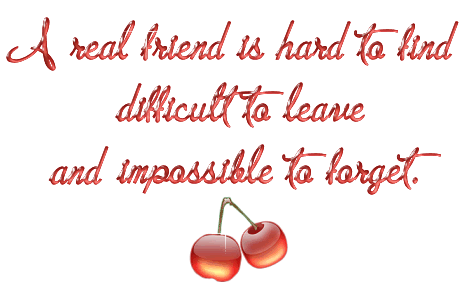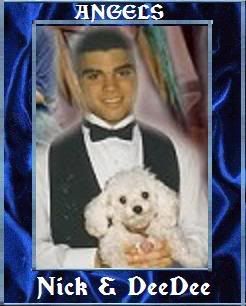 Nick & DeeDee Forever in Heaven


DeeDee RIP with Nick in Heaven (Angel Date 12/31/07)
The Rainbow Bridge
inspired by a Norse legend
By the edge of a woods, at the foot of a hill,

Is a lush, green meadow where time stands still.

Where the friends of man and woman do run,

When their time on earth is over and done.

For here, between this world and the next,

Is a place where each beloved creature finds rest.

On this golden land, they wait and they play,

Till the Rainbow Bridge they cross over one day.

No more do they suffer, in pain or in sadness,

For here they are whole, their lives filled with gladness.

Their limbs are restored, their health renewed,

Their bodies have healed, with strength imbued.

They romp through the grass, without even a care,

Until one day they start, and sniff at the air.

All ears prick forward, eyes dart front and back,

Then all of a sudden, one breaks from the pack.

For just at that instant, their eyes have met;

Together again, both person and pet.

So they run to each other, these friends from long past,

The time of their parting is over at last.

The sadness they felt while they were apart,

Has turned into joy once more in each heart.

They embrace with a love that will last forever,

And then, side-by-side, they cross over… together.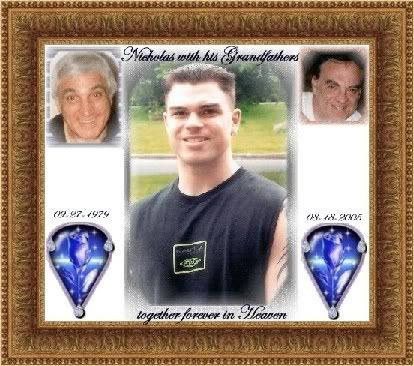 Forever Loved & Eternally Missed
Nick, Rest in Peace in Heaven with your Grandpa Nicks
Thank you Brandy

Only The Best

A heart of gold stopped beating,
two shining eyes at rest,
God broke our hearts to prove,
He only takes the best.

God knows you had to leave us,
but you did not go alone,
for part of us went with you,
the day He took you home.

To some you are forgotten,
to others just part of the past,
but to us who loved and lost you,
the memory will always last.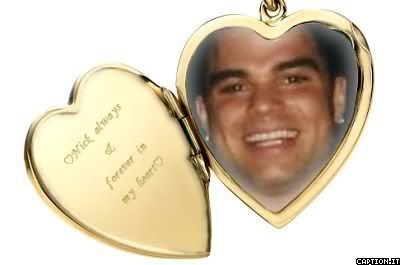 Thank you Casey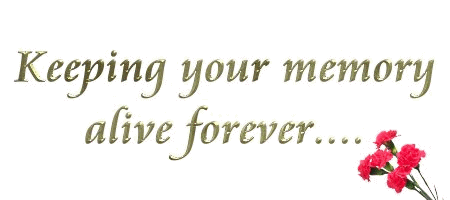 Do Not Stand At My Grave

Do not stand at my grave and weep,
I am not there, I do not sleep,
I am the thousand winds that blow,
I am the diamond glint on snow.
I am the sunlight on ripened grain,
I am the gentle Autumn rain.
I am the shining star at night,
When you awake to the morning light.

My time has come, I am at rest,
I am the sunset in the west,
I am the clouds that race above,
Where I watch over those I love.

Do not stand at my grave and cry,
I am not there, I did not die.
So, here the words that here I say,
I am the love that guides your way.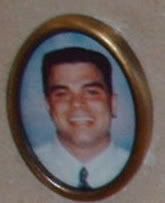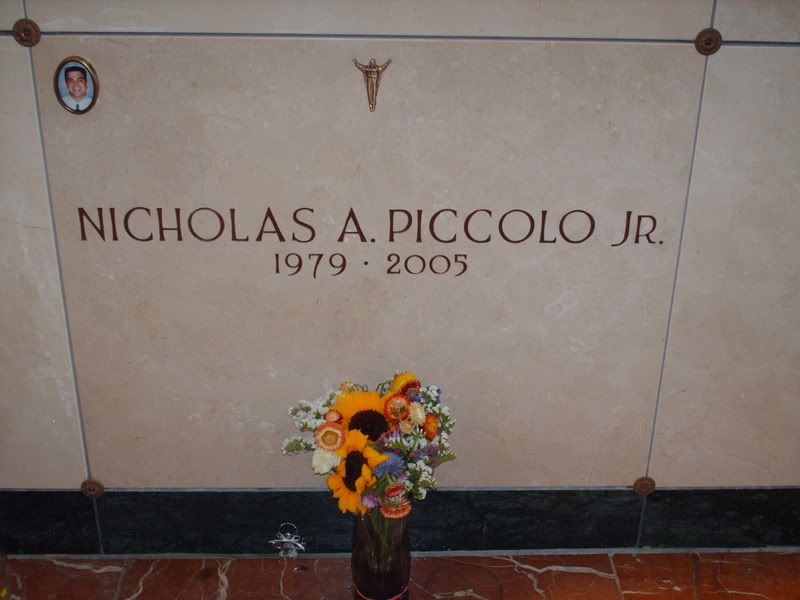 Nick's Resting Place
Our Lady Queen of Peace Mausoleum
in Gate of Heaven Cemetery
Hawthorne, NY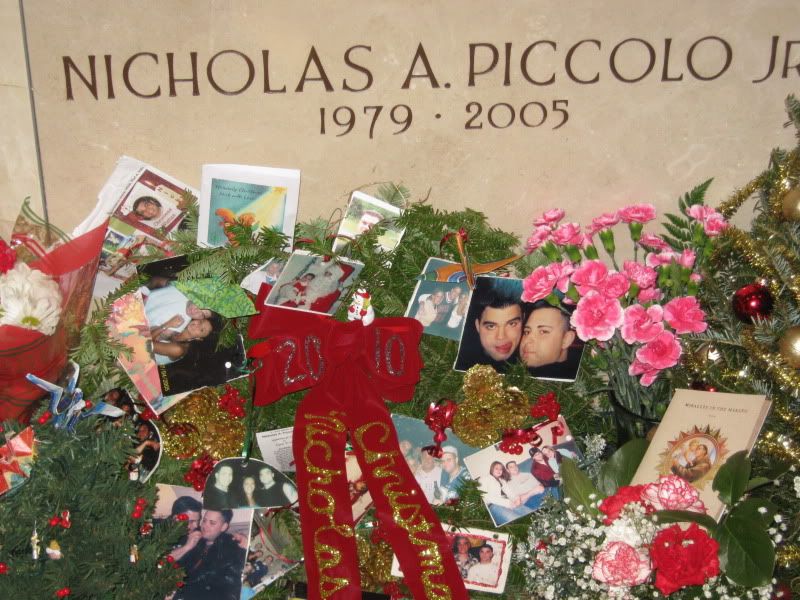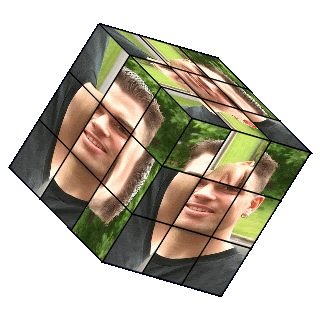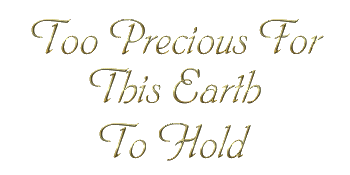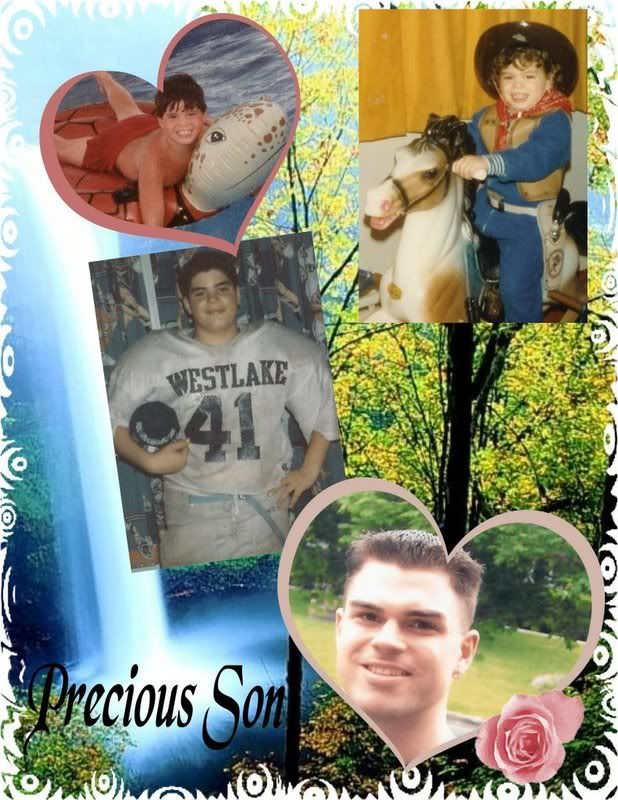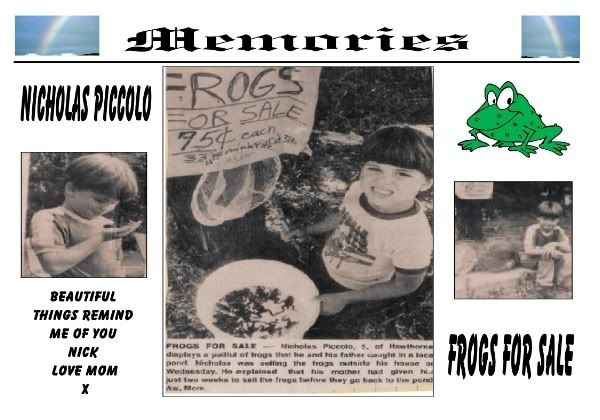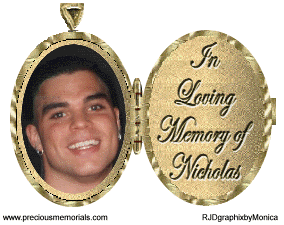 I Thought Of You

I thought of you with love today, but that is nothing new.
I thought about you yesterday, and the day befor that too.
I think of you in silence, I often say your name,
But all I have is memories and your picture in a frame.

Your memory is my keepsake, with which I'll never part.
God has you in his keeping, I have you in my heart.
I shed tears for what might have been, a million times I've cried. If love alone could have saved you, you never would have died.

In life I loved you dearly, in death I love you still,
In my heart you hold a place no one could ever fill.
It broke my heart to lose you, but you didn't go alone
For part of me went with you, the day God took you home.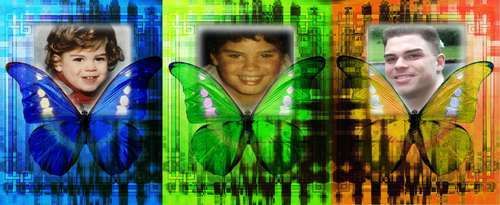 Nick through the years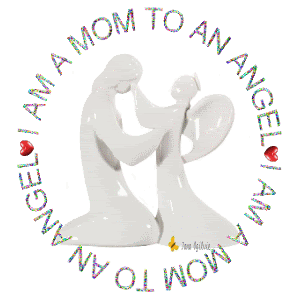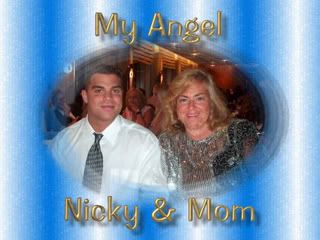 A Mothers Pain

You see me smiling.
What you don't see is that I am screaming behind that smile.
You see me go on with everything....work....groceries.....life in general.
What you don't see is that it takes every ounce of energy
I have just to breathe.
You see me alone with my thoughts.
What you don't see is me talking to Him
You see me say "I am fine".
What you don't see is the huge hole in my heart that can never be filled.
You see me and think "she's back to normal".
What you don't see is that there is no normal for me anymore.
You see me and think "Oh my God I hope this never happens to me"
What you don't see is that as much as I long for you to
understand me... I hope this never happens to you either.
You see me joking and laughing with others and think she
must be getting over what has happened.
What you don't see is that I can never forget, nor would I want to,
you don't get over the loss of a child.
You see me sad and don't know what to say so you keep going.
What you don't see is all I really want is for you to ask how
I am doing, really, and give me a hug.
You see that life goes on.
What you don't see is on August 18, 2005 that the life I had will
never be the same .
You see that I am strong...... do not be deceived.
What you don't see is that I am weak and weary. Some days "I am 6 feet from the edge".
What you see is a mask....a lie. The mask helps you cope with me
and me cope with myself.
What you don't see is the raw sometimes unbearable pain.
You don't see me being unable to breathe.
What you don't see is my despair. You don't see me screaming to
heaven for God to give my son back.
What you don't see you could never understand anyway unless you
walk a mile in my shoes.... God Forbid.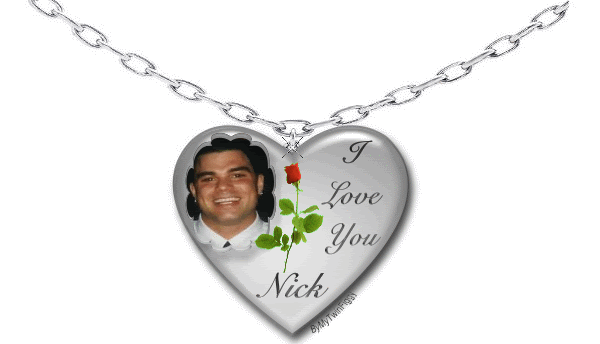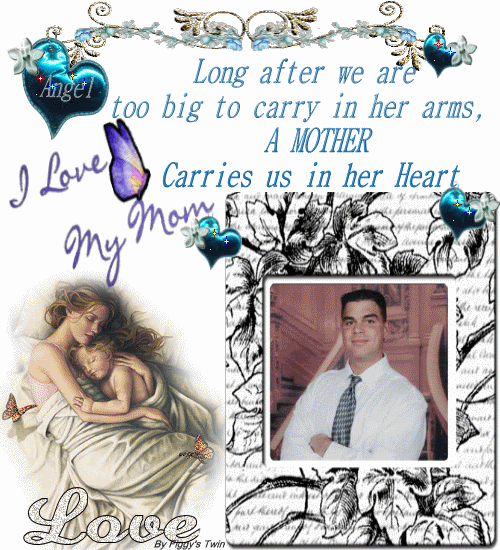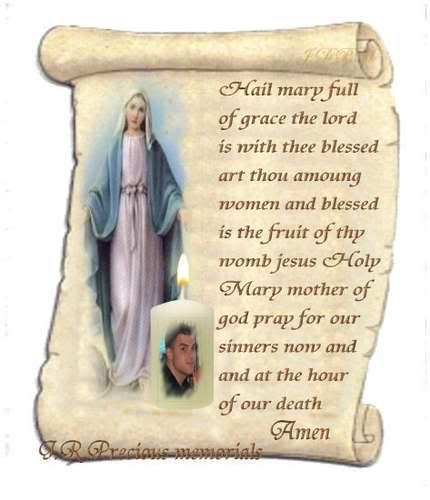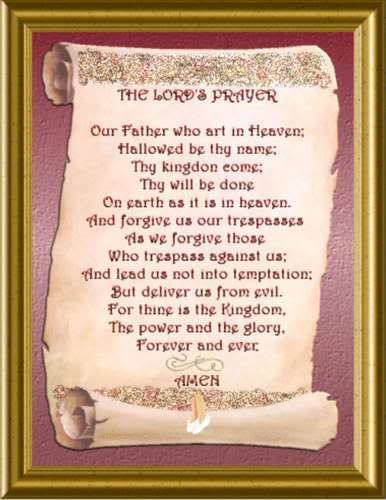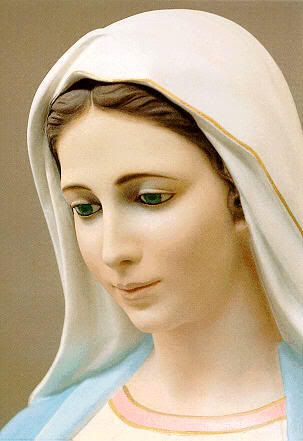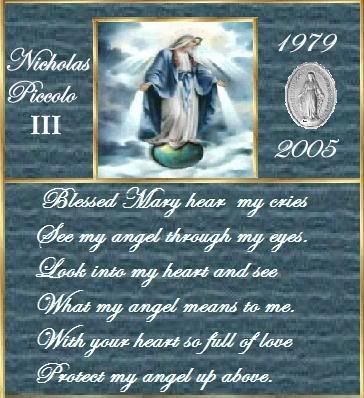 "Angel of God, my guardian dear. To whom God's love commits me here;
Ever this day be at my side, To light and guard, to rule and guide. Amen"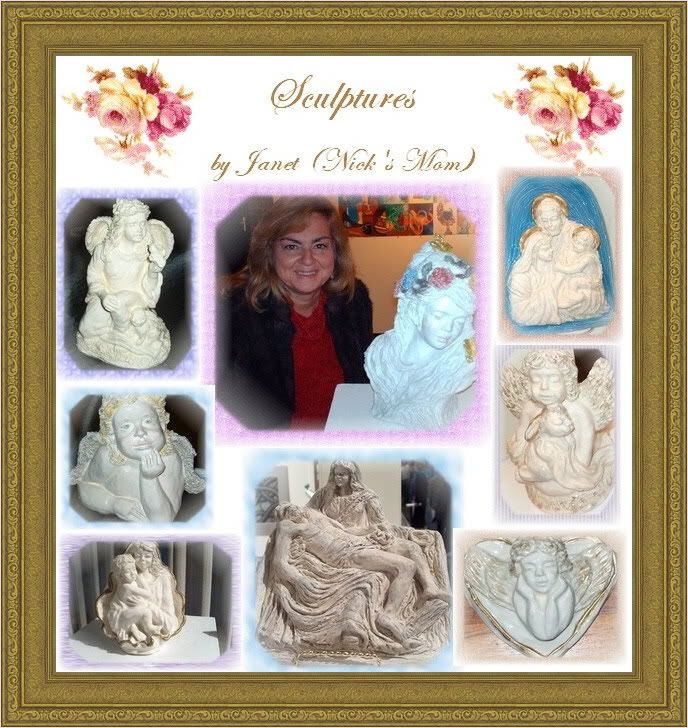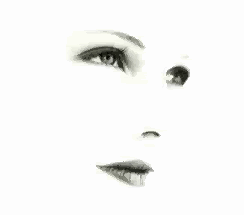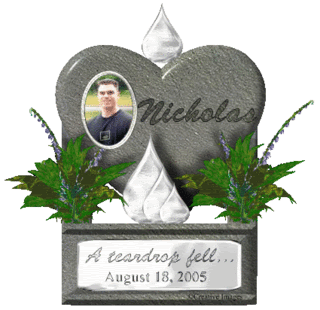 Remember Me

To the living, I am gone.
To the sorrowful, I will never return.
To the angry, I was cheated.
But to the happy, I am at peace.
And to the faithful, I have never left.
I cannot speak, but I can listen.
I cannot be seen, but I can be heard.
So as you stand upon a shore,
Gazing at a beautiful sea, Remember Me.
As you look upon a flower
and admire it's simplicity, Remember Me.
Remember Me in your hearts, your thoughts,
and your memories of the times we loved
the times we cried,
the times we fought,
and the times we laughed.
For if you always think of me,
I will never be gone.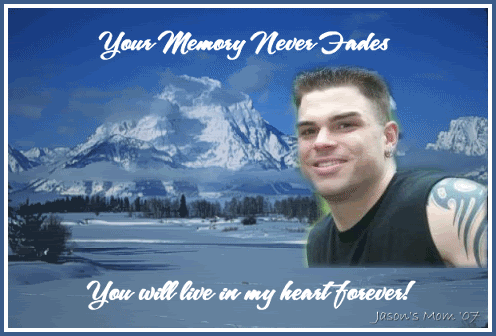 While We Are Apart

Distance may separate us
But my heart will never let you go,
For I carry a part of you with me always.
It keeps me going through the day.
It brings a smile to my face
and tears to my eyes.
It is a part of my dreams that I live for and cherish.
That part is my wish, my only one,
To see you again soon.
I know that wish will someday come true.
But for now, I will hold in my heart
The memory of you
And never let you go.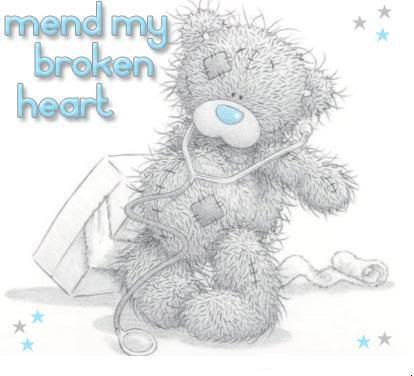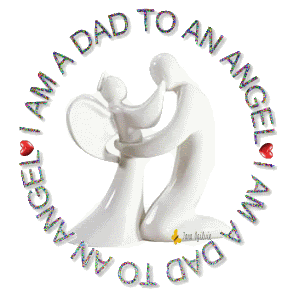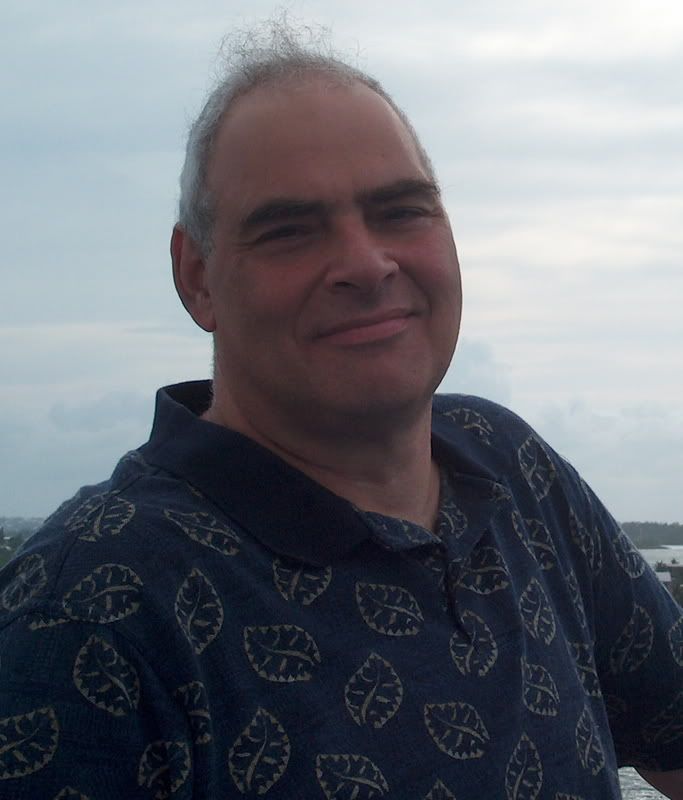 A DAD HURTS TOO by Judi Walker

People don't always see the tears a dad cries,
His heart is broken too when his child dies.
He tries to hold it together and be strong,
Even though his world's gone wrong.

He holds his wife as her tears fall,
Comforts her through it all,
He goes through his day doing what he's supposed to do,
But a piece of his heart has been ripped away too.

So when he's alone he lets out his pain,
And his tears come like falling rain,
His world has crashed in around him,
And a world that was once bright has gone dim.

He feels he has to be strong for others,
But Dads hurt too, not just the Mothers,
He searches for answers but none are to be found,
He hides behind a mask when he is feeling down.

He smiles through his tears,
He struggles and holds in his fears,
But what you see on the outside is not always real,
Men don't always show how they really feel.

So I'd like to ask a favor of you,
The next time you see a mother hurting
over the loss of her child,
please remember.....a Dad hurts too.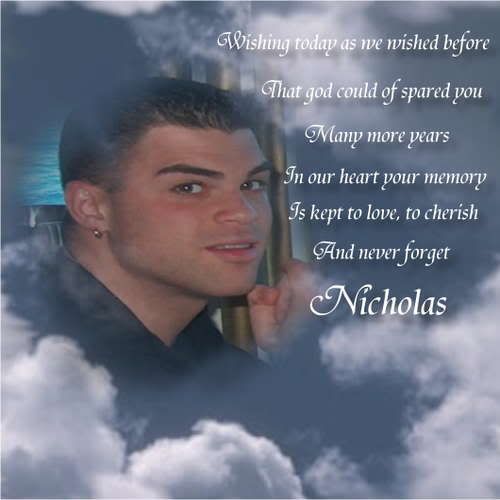 A Parents Heartache

"A grieving parent is someone who will never forget there child no matter how painful memories are.
A grieving parent is someone who yearns to be with there child but cannot conceive leaving their living ones.
A grieving parent is someone who has part of a heart as the rest has gone with their child.
A grieving parent is someone who begs for relief from the memories which plague them and then feels guilty when they get it.
A grieving parent is someone who pretends to be happy and enjoying life when they are really dying inside.
A grieving parent is someone who can cry or laugh at the drop of a hat whenever they remember their beloved child.
A grieving parent is someone who feels as if they have just lost their child yesterday no matter how much time has passed.
A grieving parent is someone who fears for their remaining family because they cannot bear to have any more losses.
A grieving parent is someone who sits by their child's memorial and feels a knife stabbing their heart.
A grieving parent is someone who wants to help others who have lost a loved one because somehow others loss is theirs all over again"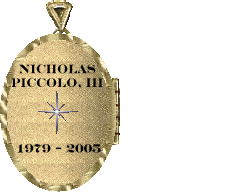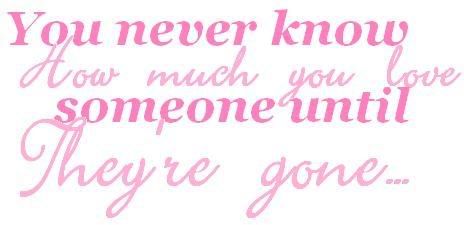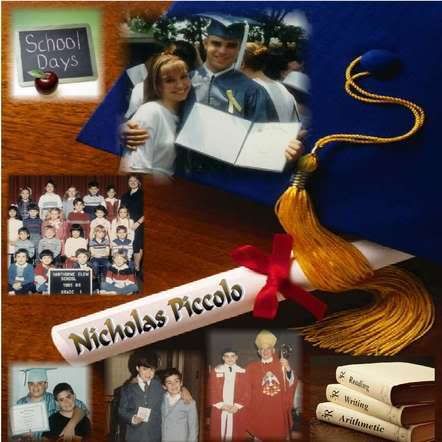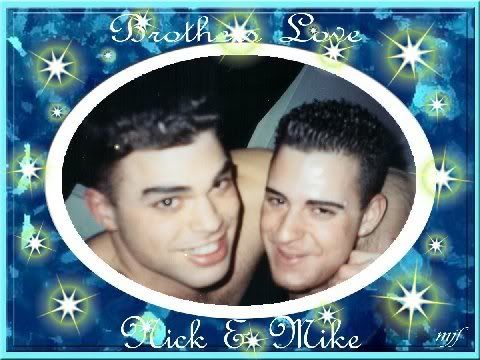 I'LL NEVER FORGET... JUST ONE MORE HUG...

I'LL NEVER FORGET THE TIMES WE SHARED
THROUGH THICK AND THIN YOU'D ALWAYS BE THERE
YOU HAD ONE OF THE BIGGEST HEARTS I HAVE EVER SEEN
NEVER TARNISHED WITH ENVY OR GREED
YOUR HEART BLEED WITH KINDNESS AND LOVE NO MATTER WHAT THE SITUATION
YOUR HEART WAS TRULY ONE OF GODS GREATEST CREATIONS
YOUR SMILE WAS ALWAYS SO GENUINE AND TRUE
IT'S NO WONDER WHY SO MANY PEOPLE KNEW AND LOVED YOU
YOU WOULD HAVE GLADLY GIVEN THE SHIRT OFF YOUR BACK
EVEN TO A PERFECT STRANGER NOT KNOWING HOW THEY'D REACT
YOU SEE, THE BIGGEST CONCERN OF THIS AMAZING MAN
WAS TO LEND ANYONE WHO NEEDED IT, A HELPING HAND
HAVING NICK AS AN OLDER BROTHER WAS TRULY A GIFT FROM GOD
EVEN THOUGH HE WOULD TEASE ME ABOUT MY SPIKED HAIR, AND CALL ME BART SIMPSON WAY BEFORE THE TIME OF I-PODS
I KNEW HE WAS SAYING IT OUT OF LOVE, AND SO WAS I
WHEN I CALLED HIM A BERNSTIEN BEAR ON CHRISTMAS EVE, HE LAUGHED SO HARD I THOUGH HE WAS GOING TO CRY
THE SAYING "HE WORE HIS HEART ON HIS SLEEVE" DOESN'T EVEN COMPARE
NOT EVEN "HEART OF GOLD" COULD CAPTURE THIS GLARE
HIS HEART SHINED LIKE BEAMS OF LIGHT FROM THE BRIGHTEST STAR
NO MATTER IF YOU HAD JUST MET HIM FOR A DAY, OR SOME TIME LONG AGO AND FAR
I WILL NEVER FORGET VACATIONS, TRIPS AND OUR LONG TALKS ABOUT LIFE AND LOVE
IT'S AMAZING TO THINK HOW I WOULD GIVE UP MY LIFE JUST FOR ONE MORE HUG
NICK OPENED HIS HEART FOR ALL OF US AND THE WORLD TO SEE
A HEART OF PLATINUM NOT GOLD... TATTOOED ON HIS FORE-HEAD NOT SLEEVE
AND FOR THIS REASON I ASK ALL OF HIS FAMILY, LOVED ONES, AND FRIENDS
TO THINK BACK TO A MOMENT IN TIME WHEN THIS GREAT HEART WAS BEATING AGAIN
DO YOU REMEMBER NOW? CAN YOU SEE AND FEEL IT WITH ME?
HOW GLORIOUS NICK REALLY WAS FROM THE TOP OF HIS HEAD TO THE BOTTOM OF HIS FEET
DO YOU REMEMBER THAT SPECIAL BOND OR MEMORY IN WHICH YOU AND NICK BOTH SHARED?
PLEASE HOLD THAT MEMORY TIGHTLY IN YOUR HEART AND HAVE NO WORRIES OR FEARS
FOR THIS MEMORY IS ONE THAT WILL SURLEY NEVER BE FORGOTTEN
THIS IS BECAUSE I KNOW, EVEN IF YOU HAD JUST MET NICK, HIS HEART HAS WARMED YOU LIKE A FLEECE BLANKET MADE FROM THE FINEST OF COTTONS
YOU WILL BE MISSED, YOU WILL BE LOVED
JUST LOOK AROUND YOU NICK, I KNOW YOUR WATCHING FROM ABOVE
LET ALL OF OUR HEARTS CRY OUT TO YOU WITH LOVE AND PRAISE
I LOVE YOU SO MUCH NICK, WHAT I WOULDN'T DO FOR JUST ONE MORE DAY...
ONE MORE HOUR... ONE MORE HUG...
ONE MORE I LOVE YOU... NICK I LOVE YOU SO MUCH
YOU WILL LIVE ON IN MY HEART AND SOLE....

LOVE YOUR BROTHER...
MIKE PICCOLO
AKA BART SIMPSON
AKA MR. GRUMP
AKA MIKEY P
R.I.P. NICK PICCOLO 8-18-05



The Broken Cord

We little knew that morning that God
Was going to call your name.
In life we loved you dearly,
In death we do the same.
It broke our hearts to lose you,
You did not go alone;
For part of us went with you,
The day God called you home.
You left us peaceful memories,
Your love is still our guide;
And though we cannot see you,
You are always at our side.
Our family chain is broken,
And nothing seems the same;
But as God calls us, one by one,
The Chain will link again.

Love,
Mom, Dad, Mike


Love, Marni, Mike & Cristina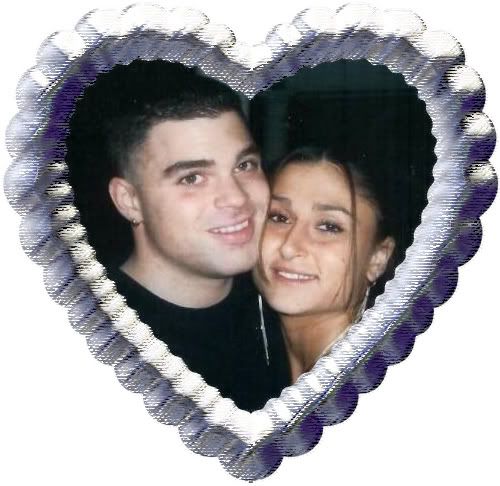 Together we had happy times, we had some sad one's too,
But the saddest day for me my love was the day that I lost you.

God took from me my moose, my love, my life, my friend,
What will I do without him, on who will I depend?

Forgive me love for crying, and calling out your name,
It's just that I'm so lonely and my heart's in so much pain.

Watch over me my moose,
Keep me by your side,

And when the light of death's on me,
Be my angel and my guide.

Love always and forever,
Marni


Thank you Jana
Didn't Have Time To Say Goodbye

Didn't have time to say goodbye
As the angels carried me into the sky
As I turned to look back trying to see
I knew that tears would be shed for me

I wouldn't change anything that day
When God called me to come His way
All fears, doubts, and pains were gone
Nothing but happiness as I entered God's home

I looked and saw family and friends grieve for me
In everyones sad heart I saw special love for me
As I was gazing at the family I left behind
God promised we would be together once more in
time

Cry not for me anymore but only rejoice
Before my death I made the right choice
I'm in heaven today just where you wanted me
Thanks to the prayers that were prayed for me

In due time we will meet again once more
I'll be waiting as you enter God's door
What a great reunion that will be
As we praise God together you and me

Love,
Nick in Heaven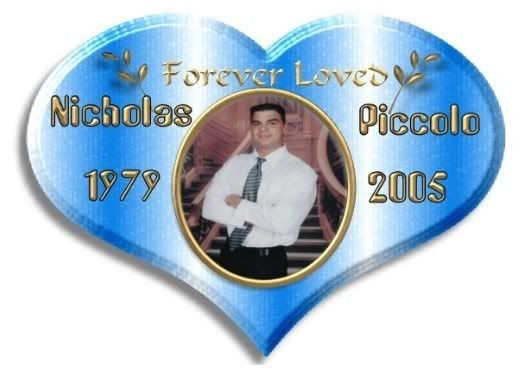 "ONLY THE GOOD DIE YOUNG"

Accidents happen, that's what they all say.
That's why you are gone, oh so far away.

A young life lost, to great heaven above.
Flying gracefully away like a beautiful dove.

A handsome guy, with a thousand great friends.
None of whose hearts will ever mend.

A bright young kid , always wearing a smile.
Always willing to sacrifice and go the extra mile.

Now he is safe, and away from all harm.
But we will all miss your amazing charm.

He is whispering to us now , for he is a bird.
So everyone listen, do not utter a word.

We all have a new angel, who has so much to give.
He will shower us with love and tell us to live.

Nick we all miss you and through it all we have hung.
Because it is true, "ONLY THE GOOD DIE YOUNG".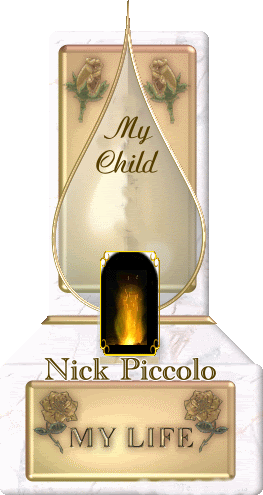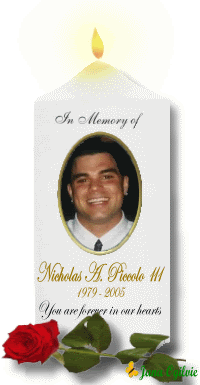 Light a Candle

Light a candle for those we mourn.
Into a new life they will be born.
Do not look for them at the gravesite.
They are somewhere else radiating their beautiful light.
They have gone to a new world where there is no darkness, no pain.
Their light and essence will always remain.

Light a candle for those who have left this mortal place.
They are free to travel through time and space.
When we think of them, they are near.
When we sit in a beautiful garden. Their voices we hear.
When we listen to a divine symphony,
We close our eyes, their faces we see.

Light a candle for they have not really gone.
With each flickering flame, in your hearts they will always belong.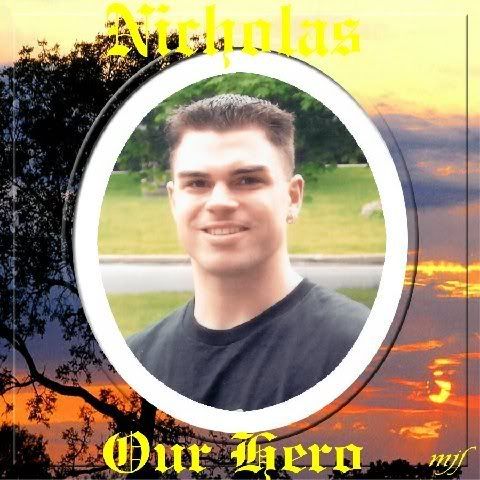 Were you one of the Lucky Ones?

Did you get to meet the one that lived
every day as if it were his last?

Did you see that smiling face,
did you hear his infectious laugh?

Did you know the one that had a hug
for even the ones that fussed at him?

Did you ever go somewhere and know
when the life of the party arrived?

Did you know the one that could make
the best of the worst situation?

Did you feel like you were a special
person around him?

Did you ever feel so loved?

Were you one of the lucky ones...
THAT GOT TO MEET MY SON…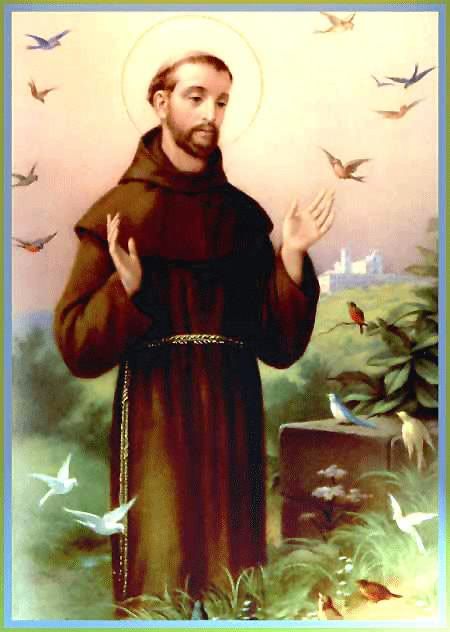 PRAYER OF ST. FRANCIS OF ASSISI

(During my son's funeral, the angels kept sounding this beautiful song of St. Francis in my mind to comfort me.(below) Thank you St. Francis for being by my side. I love you. Janet,Nick's Mom)

Make me a channel of Your Peace
Where there is hatred let me bring Your Love
Where there is injury Your pardon Lord
And where there's doubt true faith in You.

Make me a channel of Your Peace
Where there's despair in life let me bring Hope
Where there is darkness, only light
And where there's sadness ever Joy.

O' Master grant that I may never seek
So much to be consoled as to console
To be understood as to understand
To be loved as to love with all my soul.

Make me a channel of Your Peace
It is in pardoning that we are pardoned
In giving to all men that we receive
And in dying that we're born to eternal Life.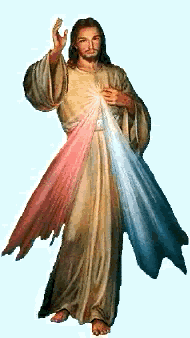 Prayer On Healing

Great God, through Jesus Christ You have revealed Yourself to be a God of the suffering. The Lord Jesus showed us ever so clearly that You are not a Divinity who watches suffering from the safety of some heavenly clime. Rather, You have proven beyond any doubt that You are near to those who suffer.

And someday You will explain to me and all of humankind of every age the "why" and the purpose and the necessity of all suffering. Of every little pain. Of every serious illness. Of every heartrending loss.

Our Lord Jesus Christ caused the deaf to hear, the blind to see, the lame to walk. He cast out evil spirits, giving His own in their place. He forgave sins, giving sinners His grace so that they would sin no more. It was the same Jesus in whom You were well pleased.

This is my assurance that I, too, shall be healed. The time and the place of my healing are hidden from my eyes. That knowledge is part of the mystery of suffering itself.

Until my healing comes, Lord, give me Your grace so that I may accept my suffering. Give me Your strength so that I will not despair. Give me Your love so that my suffering may bring me closer to You, the origin and source of all love. Amen


Jesus, You are God's Gift of Healing Love.
While on earth, You healed the sick who came for help.
I believe You continue to heal the sick today.
Heal me and those for whom I pray. Amen.



God grant me the
Serenity
to accept the things
I cannot change;
Courage
to change the
things I can;
and the
Wisdom
to know the difference

When you lose a parent, you lose your past.
When you lose a spouse, you lose your present.
When you lose a child, you lose your future.

A child that loses a parent is an orphan.
A man who loses his wife is a widower.
A woman who loses her husband is a widow.
There is no name for a parent that loses a child,
for there is no word to describe this pain.

With Every Beat Of My Heart I Love You

It is love, not time, that heals all wounds.
Grief never ends, but it changes.
It is a passage, not a place to stay.
The sense of loss must give way
if we are to value the life that was lived.

Nick, thank you for sending me signs and beautiful dreams



I wake up every morning
To a bluebird's chirping song,
I know it's music sent from Heaven
To cheer me all day long.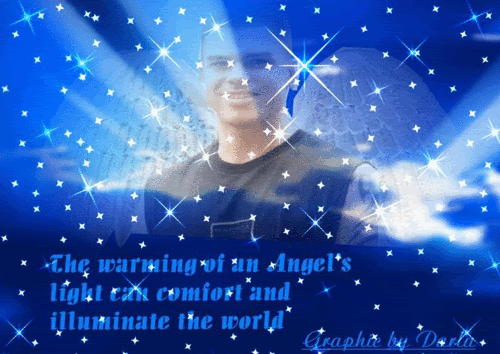 Truly An Angel

An Angel is what he is to me
That's what he was truly meant to be.
As his time on earth has past
His memory will always last.

He was put to the ultimate test
Now it's time for him to rest.
So as he goes
Heaven only knows.

That he was more
Than you or me.
Because an Angel is what
He was truly meant to be.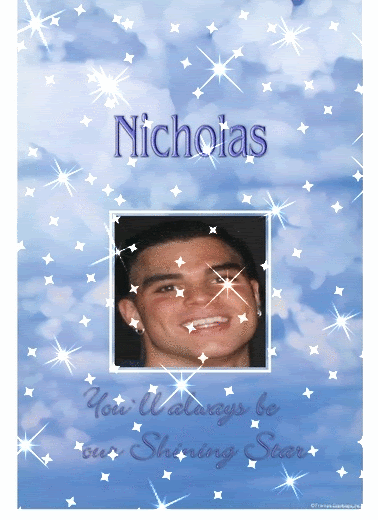 Thank you Sharon
A LIFE SO LIKE A SHOOTING STAR, BURNING
BRIGHT AND THEN IT'S GONE SO QUICKLY.
BUT IS IT REALLY GONE ?
NO, WE JUST CAN'T SEE IT ANYMORE,
AND SO IT IS WITH NICKY,
HIS SOUL IS STILL BURNING BRIGHT,
WE JUST CAN'T SEE YOU ANYMORE.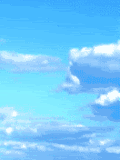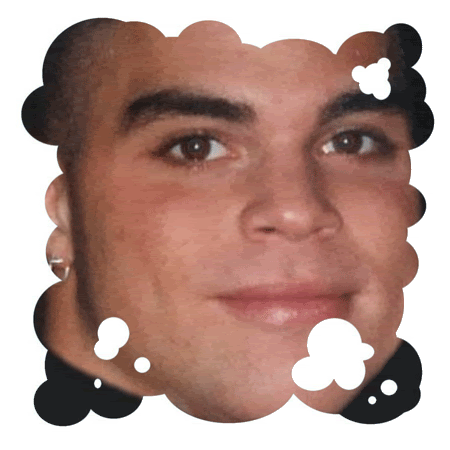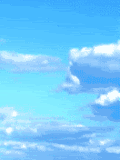 Thank you Michele
A Face In The Clouds

I looked toward the clouds today
and for a moment saw your face
and wondered just where you have gone
and a hope it's a better place.

Did you show yourself to me today
to tell me you're alright?
Or was it just a daydream
playing tricks upon my sight?

Then I thought of when you left,
you did not say a word.
We never said good-bye, but
in our hearts, your good-bye was heard.

You have changed our lives forever,
your time here not in vain,
and hope you know we always wanted
to keep you safe from pain.

We will always feel the void inside
because you are not here.
But each new thought you send our way
let us know you're always near.

So until our journey nears it's end
and we hear the angels sing,
we'll face each new day as it comes
and live off the love you bring.
This little Dove of Peace flies from site to site,
please help it make a line around the globe by taking
it to your memorial site, or give it to someone else for
their site. Thank You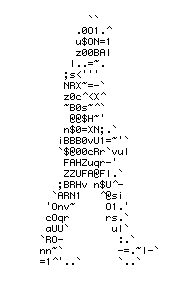 Share your memories of Nick

Thank you for visiting. Please light a candle for Nick to let us know you were here.

Also, feel free to contribute any photos, messages, or poems about him by clicking on the Tributes & Condolences tab at the top of this page. You can also send audio, video and picture files by emailing the website managers (Janet or Mike Piccolo) by using the designated links on the Audio & Video/Photo Album page. Thank you to all who write such beautiful words in his honor. Visit often as the site changes often. It means so much to us.

Please email Mike

http://youtu.be/SD28CcdQAo0